Envelopes
H SERIES
Rugged yet lightweight, this series is ideal for general sport ballooning, training and syndicate use.
This attractive and slightly bulbous 12 gore envelope design is light weight and economic in price whilst maintaining the utmost Ultramagic quality and safety. Being easy to handle a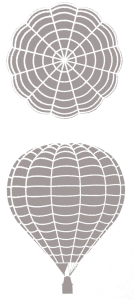 nd pack makes it ideal for competition and weekend sports flying.
It is ideally suited to a student pilot as well as a more skillful pilot. All envelope options are available with this series. An ideal starter balloon envelope that can work well also with simpler sponsor artwork or small banners. It is also the basis for the "Magic Pack", our fast delivery complete balloon offer.