Hot Air Balloons
Envelopes
Long lasting quality made only from the worlds best available fabrics.
Models
In every Ultramagic envelope, quality starts right from the very beginning at the design stage and continues throughout manufacture ending in a rigorous test flight inspection. Whether you are a professional ride operator or a sports balloonist, with an Ultramagic envelope you can be secure in the knowledge that special care is taken so as to produce especially for you the best envelope that money can buy. We use only the best quality balloon materials available in the world.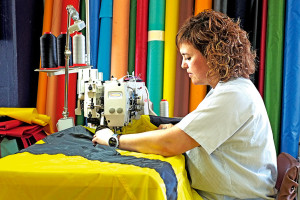 The standard durable 65 gram fabric is the finest quality polyurethane coated rip-stop nylon. This is specially produced and treated so as to resist fading and fungal attack and to maintain its very high strength.
Our slightly heavier 90 gram Ultralast fabric is especially recommended in the top of the envelope where most of the heat is concentrated or in larger ride balloons which fly many hours a year and where weight is not quite so important. This material is coated with a special silicon coating both sides and has proved to give unbelievable service in the most extreme conditions. Both standard fabric and Ultralast fabric are available in 22 standard colours with special fabrics available to order.
Our super light weight 40 gram Ultralite fabric is especially recommended in smaller balloons where the lowest possible weight of equipment is most important. This material is coated with a special silicon coating both sides and has proved to give massive weight savings as well as packing down small. This fabric is well proven over more than 10 years with many balloons in operation world wide. Ultralite fabric is available in 12 vibrant colours.
All standard Ultramagic envelopes include a full 1.5 m Nomex base and a standard parachute deflation system. Many optional extras are available including different deflation systems for rapid deflation and rotation vents to turn the balloon. Each and every Ultramagic envelope is fully inspected and tested to the highest airworthiness requirements.