Solo Duo
The Duo
The ultimate flying machine for two
The DUO like the SOLO has been designed with special attention to safety, secu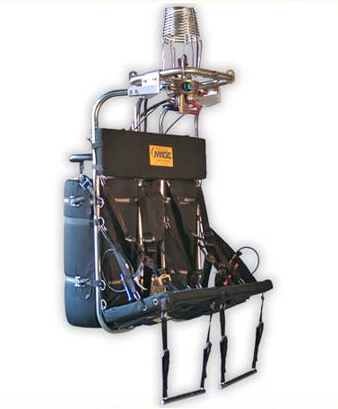 rity and comfort, whilst ensuring that it has all of the benefits of a lightweight simple to operate system.
The Duo Carriage:
• Constructed from aircraft quality stainless steel.
• Allows easy installation of choice of standard 20kg or 30kg cylinders.
• 2 Comfortable adjustable padded seats, footrest and headrest.
• 3 point easy fit safety harnesses with quick release buckle.
• Easy remove burner frame with gimbal operation.
The Duo burner and fuel system:
• Two – main burner valves, liquid fire valves, pressure gauges and pilot lights.
• Standard hydraulic actuated burner valve.
The Duo envelope:
The Duo envelope is available in choice of types with sizes ranging from 42,000 cu ft to 70,000 cu ft.  It is supplied as standard in Ultralite fabric – a high strength, low weight silicon elastomeric coated fabric.