Baskets
Sports baskets
Strong design, aircraft quality, completely made in house.
Excellent build quality and rigidity of shape.
• Hand crafted totally in house to our own distinctive weave method.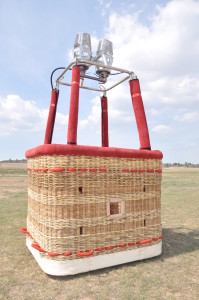 • As weavers we are able to select  and control the highest quality of materials.
• Scandinavian high strength floors.
• Hardwood runners.
• All conventional open basket have 2 stainless steel wires at each corner.
• Each basket has plenty of handles both inside and out, available in a choice of colours.
• The padded top is trimmed in a choice  of  the  finest  leather  or  suede.
• Extra thick natural hide protects the bottom of the  basket.
• Plenty of step holes for easy access.
• All are equipped with a bag and pouch to accept fire extinguishers, first aid equipment and balloon documents. We have one of the largest range of sizes and types of baskets available in the industry. Whatever your requirments are, Ultramagic can create and supply exactly what you need. Our standard open baskets are ideal for all sporting and advertising balloons and are available in straight or swept side design.